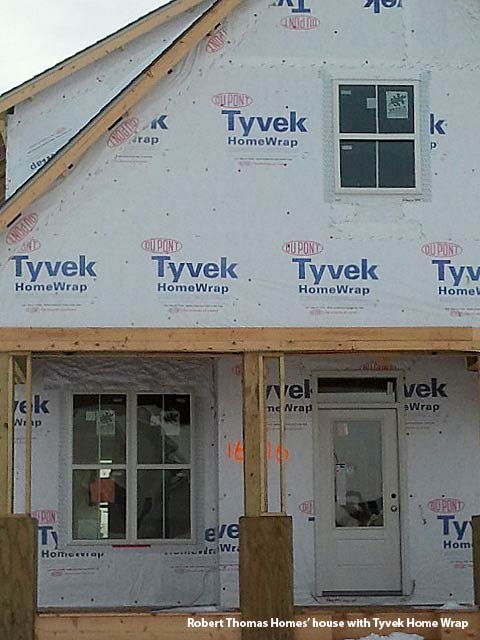 Choosing Quality House Wrap Insulation for Minnesota Homes
At Robert Thomas Homes, we take great pride in knowing the fact that our homes will withstand the test of time. The architecture and craftsmanship of your future home relies on the fact that it will be protected from the harsh Minnesota weather conditions. Our team of building experts go to great lengths to assure your home will be protected from our elements which is why we use the DuPont™ Tyvek® Weatherization System.
What is the DuPont Tyvek Weatherization System?
It is a system of weatherization products that are formulated to work together to keep both air and water out of your exterior wall cavities. Tyvek is the durable water resistive sheet which is installed directly under the siding. It is a housewrap that covers the wood framing of your home to protect it from getting wet. Wood will last generations as long as it stays dry and Tyvek helps it do that. Tyvek also stops airflow from getting inside the wall cavity. Air that circulates in a wall cavity would negatively affect the R-value of your insulation therefore keeping wind out of the wall is critical to the energy efficiency of your home. The Weatherization System also includes DuPont window and door flashing so that all exterior penetrations are properly sealed against air and water.
What makes DuPont Tyvek unique? 
Tyvek is made up of strands of fibers that are one tenth the size of human hair.
The fibers are spunbonded together to create a very tough sheet that has millions of pores large enough only for single vapor molecules to pass. Both air/wind and water/rain can't penetrate thru the Tyvek because they travel in clusters of molecules. But single molecules of moisture vapor can pass easily as shown in this picture.
So why is that important to your home? 
Because a new home has built in moisture and the wood framing needs to dry out naturally in the vapor form along with not getting wet each time it rains.
How does Robert Thomas Homes differ from other builders?
Robert Thomas Homes uses DuPont Certified Tyvek installers. We realize the water resistive barrier – Tyvek, must be installed correctly so it is crucial our installers have been trained by Tyvek Specialists. We also acknowledge not all housewraps are created equally and Tyvek is one of the only house wraps durable enough that keeps air and water out while allowing the structure to properly dry. Other housewraps may appear more affordable at first but may not effectively protect your home from wind and rain.