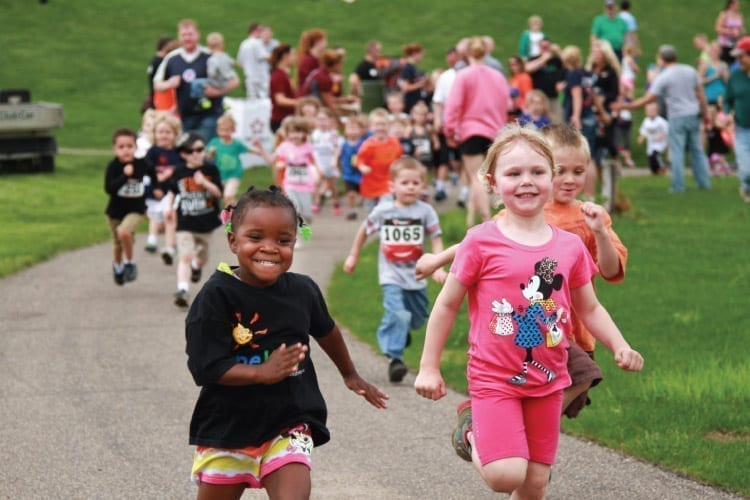 8th Annual HopeKids' Charity Run + Walk
We at Robert Thomas Homes share the same passion as our parent company, Tradition Companies, to support our local community and organizations that have helped contribute to the success of our business.
For the past three years, Robert Thomas Homes has joined the Tradition Family of Companies in hosting an annual charity run + walk to raise money for HopeKids Minnesota, a local nonprofit that provides events and activities for children with life-threatening medical conditions and their families. The first seven years of this event, in conjunction with our "The House That Hope Built" project last year, we have raised more than $965,000 to benefit the organization.
Please join us for the 8th Annual Suburban Adventure Walk + Run and Kids' Fun Run at Spirit of Brandtjen Farm in Lakeville on Saturday, June 11th, 2016. Lunch and a t-shirt is included in the entry fee for all participants, and then join us afterwards for free post-race activities; strong-men truck pull, face painting, mascot football, a dog agility show, a bounce house and much more!
WANT TO PARTICIPATE?
CLICK HERE to pre-register. Or register race day at 8:00am.  The entry fee for the 5K/10K is $25 and the Kids' Fun Run is $5.
9:00am: 5K/10K Run
9:30am: 5K Walk
10:45am: Kids' Fun Run
Lunch for participants and free activities to follow
WANT TO GIVE A FINANCIAL CONTRIBUTION? To donate online, CLICK HERE.
Are you a business or corporation? Email info@traditioncompanies.com to donate via corporate sponsorship.
Most of us cannot imagine the what these children and their families go through on a daily basis. This event is an opportunity to raise money and help them feel special.
Proceeds go to HopeKids Minnesota. By contributing you help provide the most powerful gift of all… HOPE!
To see past charity runs click here.