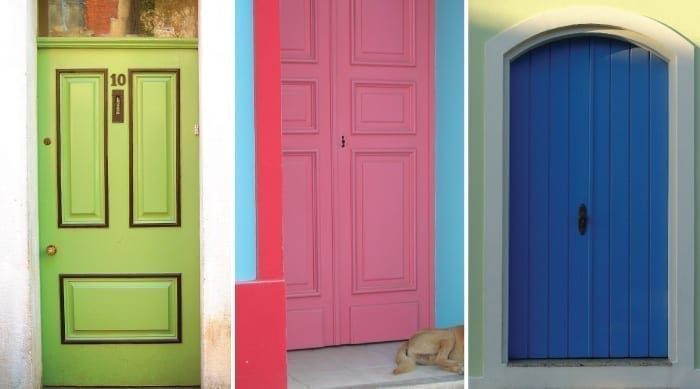 Bold Front Door Colors
As a homeowner, you probably put a lot of effort into making your home look clean and welcoming. You mow the yard, landscape and wash the windows – all things that keep up with curb appeal. Even if your house is the most pristine on the block, make your home really stand out with a bold front door color. White or wood doors are attractive and classic, but a hot hue on your door gives visitors a little clue to the type of people that lives inside.
Before you pick a color, think about your home's architectural style and which color would fit it best.
PHOTO SOURCE: rgbstock.com
CONTEMPORARY OR MODERN – This architectural style isn't commonly found in our area, so if you're owner of a contemporary or modern home, make it pack a punch. Pick a yellow, orange, real or lime green for your front door!  These colors are fun, bright and really make a statement.
PHOTO SOURCE: stock.adobe.com
VICTORIAN – This architectural style is very traditional and ornate. To make your door stand out from all the details, try a dark hue, like plum or black.  These colors have the potential to make the trim and hardware on the home really pop.
PHOTO SOURCE: stock.adobe.com
CRAFTSMAN OR BUNGALOW – A blue or turquoise colored door would add an unexpected touch to contrast the low rooflines and porches commonly found on these types of homes.
PHOTO SOURCE: Robert Thomas Homes – The Birchwood "B"
CAPE COD – With the broad frame and gables typically found on this home style, a bright red or deep crimson door makes the home feel sophisticated. Red would look especially good and add contrast with black shutters.
PHOTO SOURCE: stock.abobe.com