HopeKids, Inspiration, News & Events
HopeKids, Inspiration, News & Events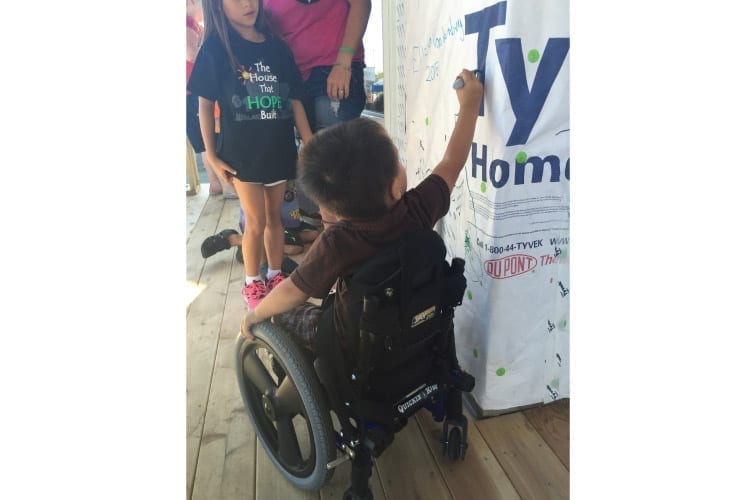 Sealing Messages of HOPE – TYVEK® TIME CAPSULE EVENT
"Make good memories."
"Be hopeful."
"Bless this house and all inside it."
"Hopekids wants to make sure that kids can achieve their goals."
Just a few messages of HOPE that can be found on the exterior of "The House That Hope Built" located at 16485 Equestrian Trail, Lakeville, MN 55044 in the Spirit of Brandtjen Farm community.
Last week over 200 people joined us at the DuPont™ Tyvek® Time Capsule Event presented in partnership with Hallmark Building Supplies and Tradition Companies to sign, draw, and write their kind wishes which will be sealed in the siding of the "The House that Hope Built".  As employees, HopeKids' parents, soon-to-be Robert Thomas homeowners and others read the messages many were brought to tears by the inspiration.
Each child who attended the received a free t-shirt and complimentary dinner for all attendees was catered by Dickey's BBQ (Eagan) and dessert was served by Culver's (Apple Valley).
"The House that Hope Built" is being constructed by Robert Thomas Homes with the support of trade and business partners and will be featured in the Fall 2015 Parade of Homes. The net proceeds of the sale of "Hope House" will be donated to HopeKids Minnesota, a local nonprofit organization that provides unique support for children with life threatening illnesses and their families.
To learn more about the project and our relationship with HopeKids click here.