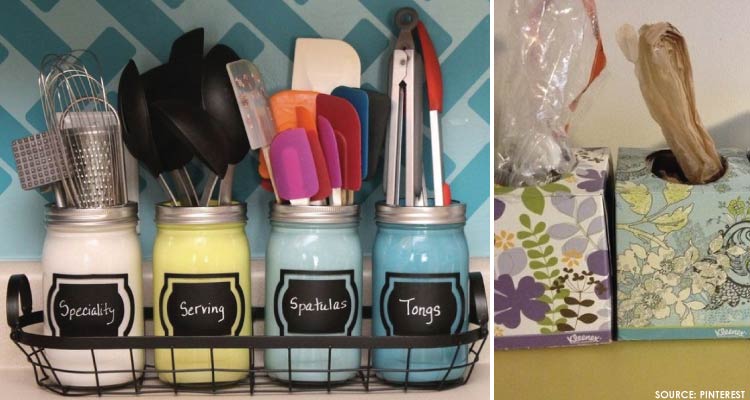 Kitchen Storage & Organizing Ideas
Mario Batali put it best when he said, "The kitchen really is the castle itself.  This is where we spend our happiest moments and where we find the joy of being a family." Kitchens tend to be the hub of our homes and encounter a lot of traffic. While we all dream of having a perfectly organized home with a place for everything, there are simple solutions to common problems that can be incorporated whether you are building new or live in an existing home. Take a peek at a few pointers to keep clutter at bay.
Magazine racks and paper sorters – use these common office supplies to hold smaller or slim items like paper plates, plastic wrap boxes, lids for pots and pans, or cutting boards
Pull out drawers – utilize every inch of your kitchen with pull out drawers in your pantry, under the sink, or in the bigger cabinets for things like snacks or cereal boxes
Rolling cabinet – if you don't have the space for an island, consider a pull out counter; it looks like a regular cabinet, but can be utilized in different parts of the kitchen when you need a little extra space
Mail station – as in many of >Robert Thomas Homes' floor plans, a little nook off of the kitchen as a catch all for purses, keys, mail, and other miscellaneous items that tend to clutter your kitchen counters
Places for plastic bags – use empty tissue boxes for a place to tuck away plastic bags for easy access later
Hooks – clever cabinet manufacturers make a sliding pots and pans hook you can install in existing kitchen cabinets; you can also use command hooks on the inside of cabinet doors for measuring cups and spoons
Mason jars – if you've ever looked a Pinterest, this last organization solution needs no explanation; where there's a storage need, there is a mason jar
Utensil drawers or pots – instead of having a messy drawer with your utensils tossed in, use cute pots on the counters, or have a designated drawer that pulls out with different crocks to hold spatulas, whisks, etc.
Drawer dividers – for deep or narrow drawers, special dividers work great for keeping cake pans or cookie sheets in place; you can also use baskets or bins in deep drawers to organize produce, baking supplies, silverware, etc.
Use empty space – if you don't have existing cabinets surrounding your refrigerator, consider adding shelves; this adds more storage or a place to spice things up with funky décor
These are but a few of the smart ideas to keep your supplies straightened. Houzz and Pinterest are meccas for more tips and tricks.