HopeKids, Inspiration, News & Events
HopeKids, Inspiration, News & Events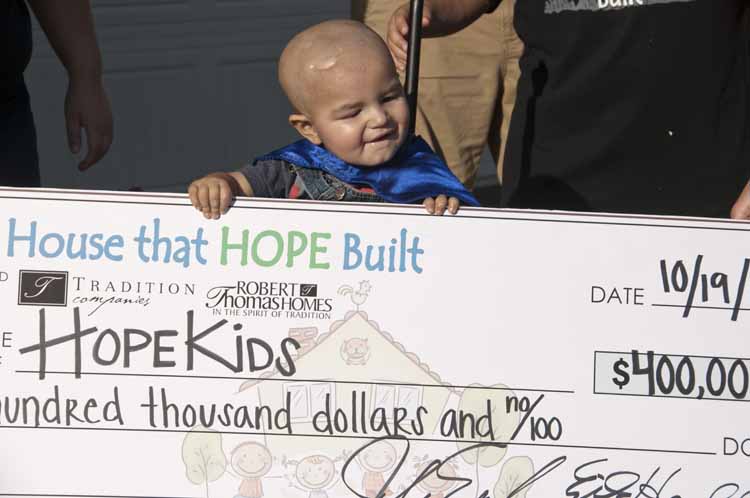 Building HOPE from the Ground UP!
"I'm glad I am wearing sunglasses to hide the tears," mentioned HopeKids' President, Josh Taylor, as a $400,000 check was presented to the organization yesterday, October 19th, 2015. "The impact of this gift is immeasurable to help families build community and supportive relationships in a time they need it the most.
Over the last few months you may have caught some buzz about  "The House That Hope Built," which was was featured during the Fall 2015 Parade of Homes®.
Joined by many of our trade and business partners who contributed materials, labor and cash donations to the project, Tradition Companies and Robert Thomas Homes gathered to present HopeKids Minnesota with a $400,000 donation to the organization.
HopeKids' Executive Director, Brian Anderson, was in shock at not only the size of the gift but the impact it will make on families across Minneapolis-St. Paul.  "I am touched by the support of Tradition Companies and Robert Thomas Homes," Anderson said.  "This gift helps more than 1,000 families battling cancer or other life-theartening conditions by keeping them focused on the future, looking forward to the next fun event around the corner."
From groundbreaking to writing messages of "HOPE" on the side of the house, this was truly a team effort to build HOPE from the ground up.
To learn more about the project and/or see additional photos please visit "The House That Hope Built" page.
A special thank you to all our sponsors.  This couldn't be possible without you!