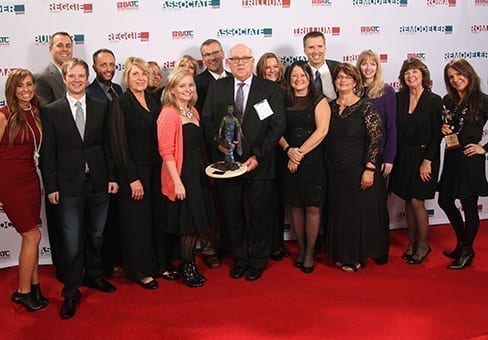 Robert Thomas Homes Named Builder of the Year
Last Thursday, the annual Building Industry Awards Gala, better known as "The BIG Night," definitely held true to its name for the Robert Thomas Homes team. Hosted by the Builders Association of the Twin Cities (BATC), the event is held to honor and recognize top builders and trade partners, for their excellence in the home building industry.
[doptg id="91″]
FLOOR PLANS | MODELS & MOVE-IN READY HOMES | COMMUNITIES | CONTACT US
The night started out with a few hoots and hollers as the Robert Thomas Homes was presented with its second Reggie Award℠ for The Woodbridge showcase model in Fox Meadows (Hugo, MN), featured this past 2015 Parade of Homes®. Later in the evening those cheers turned to tears of joy as Robert Thomas Homes received one of the most prestigious awards of the evening, "Builder of the Year."
These accolades would not be possible without the dedication of our employees, amazing trade partners and clients. THANK YOU! We are truly honored.
Robert Thomas would like to also congratulate a few of our trade partners including Installed Building Solutions who was named "Associate of the Year," along with Ambiance at Home and Automated Building Components who took home the Trillium Awards℠ for their partnership on our Reggie Award℠ winning home.
WHAT IS BUILDER OF THE YEAR & HOW IS IT DETERMINED?
Builder of the Year is one of BATC's most coveted honors along with Associate of the Year. Companies are selected upon evaluations (ratings points plus subjective criteria and comments) of trust, communications, loyalty and ethics by the trade partners and clients whom they do business with. It is narrowed down to five Builders with the highest scores.  From there the subjective criteria and comments are reviewed by past award winners to determine the year's winners.
WHAT IS A REGGIE AWARD℠ & HOW IS IT JUDGED?
The Reggie Award℠ is presented to builders to recognize their outstanding achievement(s) on a series of categories based on design, construction quality, and value of the homes entered.  Each home entered is judged by panel of other builders and industry professionals that view the houses during the Parade of Homes®.