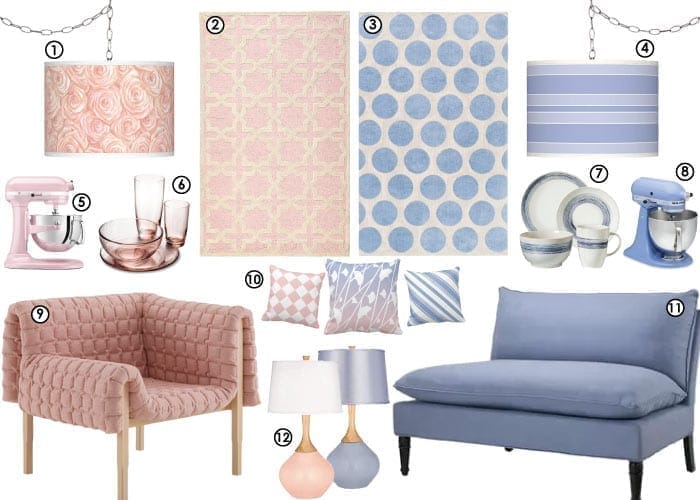 2016 Color of the Year Interior Design Inspiration
Drum roll please… for the first time Pantone introduces TWO hues, Rose Quartz and Serenity as the 2016 Color of the Year.  This symbolic color selection was based off of what is "taking place in our culture as an expression of mood and attitude," according to Pantone.com.
Rose Quartz (Pantone 13-1520) is a soft tone that conveys compassion and sense of composure with a touch of persuasiveness. While Serenity (Pantone 15-3919) was chosen as a representation of relaxation with a weightless, airy, blue sky feel.  These serene and calming selections are a much different feel than the 2015 Color of the Year, Marsala.
HOW CAN YOU INCORPORATE ROSE QUARTZ & SERENITY IN YOUR HOME?
Go ahead, mix and match the colors or find a way to let them stand alone.  As the saying goes: "a picture is worth a 1,000 words," so let pictures below do the talking for your 2016 Color of the Year interior design inspiration!
1. Swag Style Pink Roses Plug-In Chandelier, 2. Chesire Rug, 3. Abigail Sky Blue/White Area Rug, 4. Lilac Bold Stripe Plug-In Swag Pendant, 5. KitchenAid Stand Mixer (Pink), 6. Libbey Dinneware Set (Pink), 7. Preston Denim Dinnerware Set, 8. KitchenAid Stand Mixer (Blue), 9. Ruche Arm Chair (Rose), 10. Throw Pillows, 11. Eicholtz Sofa Maxwell (Blue),
12. The Wexler Table Lamp (Linen & Cosmo Blue)