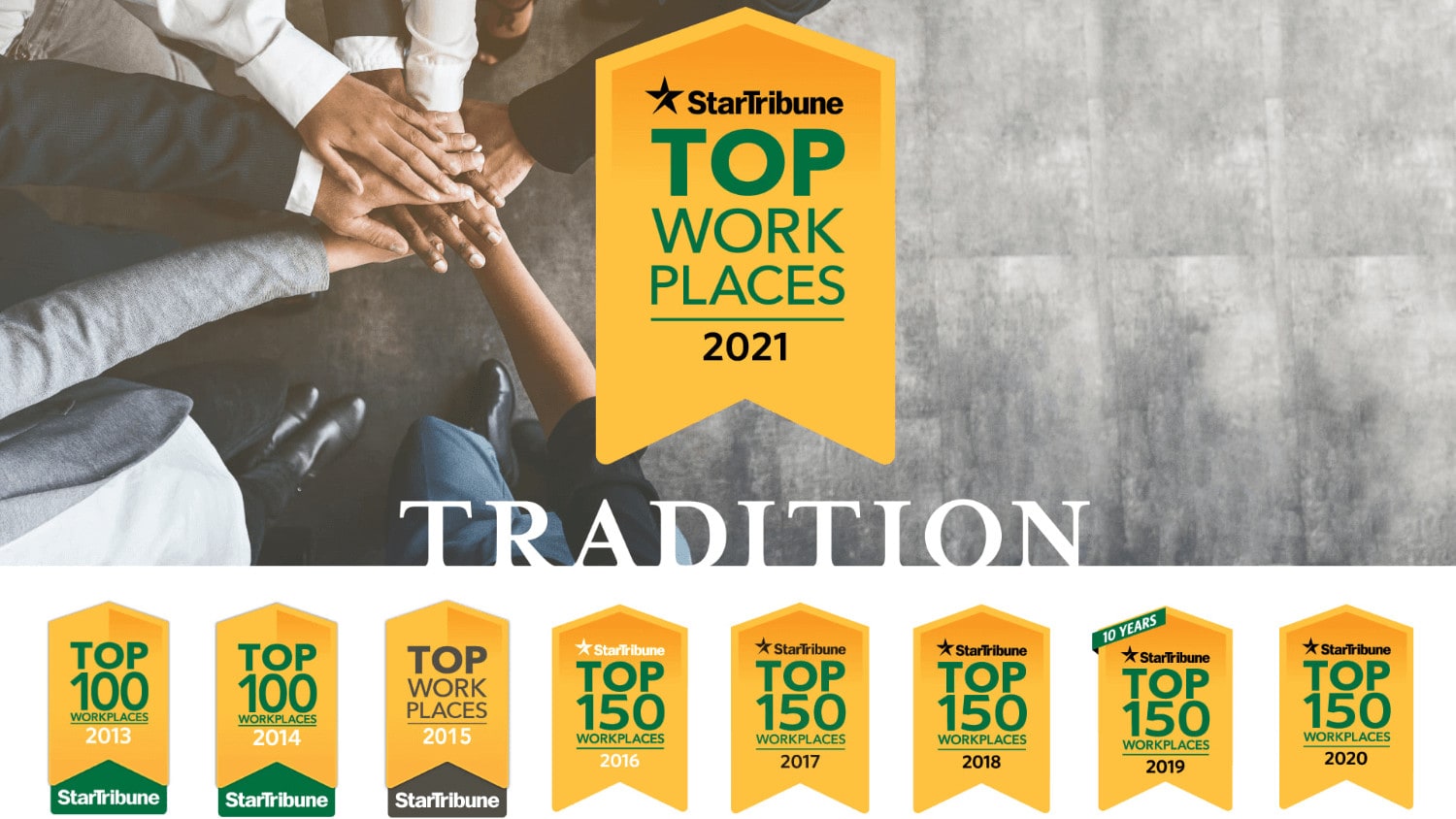 Star Tribune Top Workplaces 2021
On June 17, Star Tribune recognized Tradition Companies as one of the Top Workplaces of 2021, making it our 9th consecutive year to achieve this award! This year, we ranked  #11 in the mid-size category. Robert Thomas Homes is proud to celebrate this achievement along with Tradition's family of companies: Tradition Development, Tradition Mortgage, Esquire Title, Homes By Tradition, Tradition Capital Bank, Enebak Construction Company, Tradition Wealth Management, and RT Urban Homes. Congratulations to our dedicated team for achieving this award once again!
What is the Top Workplaces of 2021 Award?
Each year, Star Tribune recognizes a list of the most impactful, forward-looking Minnesota companies based on feedback from real employees. This feedback is pulled from a survey conducted by Energage, an independent corporation that aims to improve national employee engagement and retention. Over 140,000 Minnesota employees from public, private, and nonprofit organizations participated in the survey. These employees assessed their workplaces in areas including engagement, personal satisfaction, and overall organizational health. Final results were calculated based solely on these employee responses.
Amongst the nearly 2,000 companies invited to participate, Tradition Companies is honored to be recognized as one of the Top Workplaces of 2021. We are proud to have employees who recognize our honesty, integrity, and community impact.
Click Here to view the full list of Top Workplaces of 2021.
Over a Century of Striving for Excellence
When Sigurd Enebak founded Enebak Construction Company in 1900, he could have never anticipated the groundbreaking legacy he had just laid the foundations for. Nearly 120 years later, Tradition Companies is thriving as a family of vertically integrated companies specializing in land development, financial services, and home building needs. While offering a wide variety of services, all of our companies are commonly dedicated to cultivating excellence and being a force for good in the community and beyond. Robert Thomas Homes is proud to be amongst this family of companies and to provide homeowners with the highest standards of quality, craftsmanship, and community involvement in homebuilding.
This commitment to quality clearly does not go unnoticed, as our employees have consistently ranked Tradition Companies amongst the Star Tribune's Top Workplaces since 2013! To receive updates or learn more about the impactful work we are doing in local communities, visit our Facebook and Instagram pages.
Always remember there is never a wrong time to do the right thing. Proud to be part of this force for good. Together, we are making a difference. 

– Tip Enebak, Founder