Our Favorite Design Trends of 2021
If there is one thing predictable about the world of fashion and design, it's that it will continue to be consistently unpredictable. The nonstop updates and circulations of design trends can be an exciting yet maddening process to keep up with. While some of these trends manage to stand the test of time, many are short-lived fads that disappear almost as fast as they emerge. At Robert Thomas Homes we aim to incorporate trends that are here to stay, yet keep a classic design that homeowners won't grow tired of. That's why we've decided to sort through some of the biggest trends of the year and share with you our favorites; as well as why we believe they are here to stay. 
Here are five design trends of 2021 that we believe are more than worth paying attention to: 
Blue
Wood Accents
The "Grandmillennial" style
Natural Light
Black Accents
Blue!
Classic blue was named the 2020 Pantone color of the year, and it is clearly here to stay into 2021. At Robert Thomas Homes, we have been incorporating this trendy color into both our interiors and exteriors, adding an exciting pop to our more classic color schemes. "I actually just had a few clients do a full navy blue kitchen," revealed Katie Collins, our Senior Interior Designer.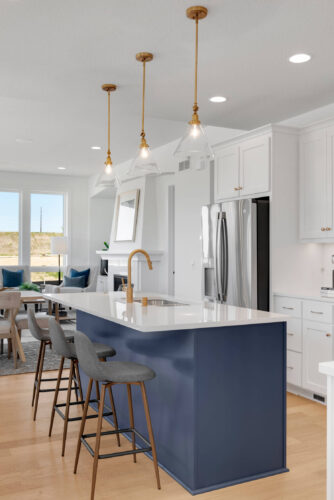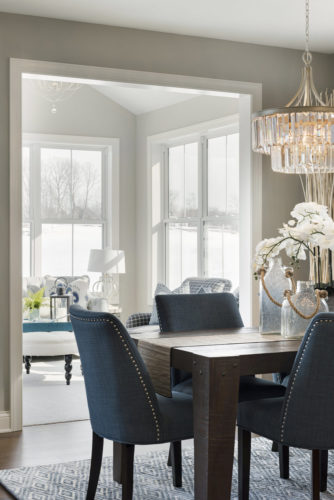 Why we support this trend:
While many are hesitant that this color will darken their home, Katie assured us that this navy hue ends up feeling "more coastal rather than dark. Against all of the windows and white trims, it adds a very satisfying contrast." 
Wood Accents
We're starting to see warmer wood tones creep back into our kitchens, as the monochromatic white look slowly falls out of style. Our design team has been particularly loving a lighter-washed wood sample called riftsawn white oak. "I just had my first client do all oak kitchen cabinets," shared Katie, "it looks great when you incorporate a mixture of wood and painted elements. Kind of mixing everything together." This is one of our favorite design trends in particular, because wood never really falls out of style, and is a great way to keep your home looking timeless.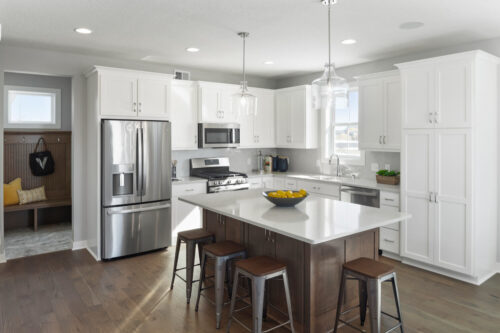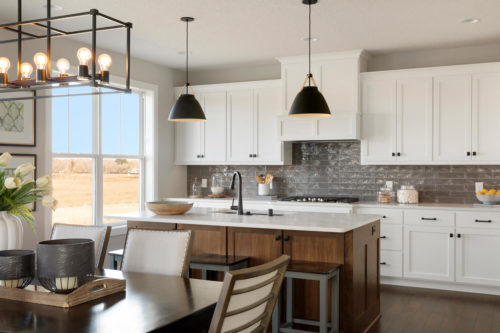 Why we support this trend:
We overall love the warmer tones these wooden accents bring, especially to the kitchen. While the classic white look is clean and elegant, it can start to feel a little cold without some balancing elements. Incorporating wood, especially of lighter washed tones like white oak, can help bring a more cozy and inviting feel to the kitchen, without disrupting the timeless, clean look created by the whites. 
The "Grandmillennial" Style
It seems the design world has been feeling a bit nostalgic lately. The reemergence of vintage patterns and antique art have birthed the term "grandmillenial," a modern design trends which pays homage to the dated, traditional styles you may have found in your grandparents homes. Our design team has been particularly loving the grandmillennial flavor created by geometric and patterned tiles. They have the ability to add an exciting, trendy flare to otherwise simple bathroom and kitchen floors. "Everyone loves the hexagon shape, it goes so great on shower floors," said Katie, "and then the patterns add an extra layer, it's so fun and different."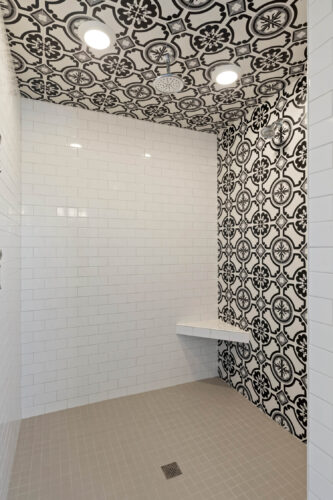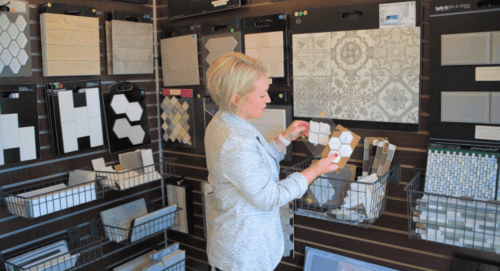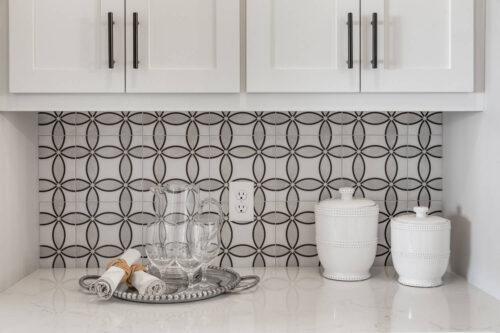 Why we support this trend: 
This reemergence of older, traditional styles adds a fun twist to the prevalent clean simplicity of most modern looks. We love the character it can bring to a simple, single-toned room and the way it seems to merge vintage with modern, creating an exciting convergence of past and present. 
Natural Light:
Bring in the light! With oversized windows, incorporated throughout the home, your home will be flooded with natural light. Not only does this trend brighten our homes, but it also adds a beautifully modern look to our exteriors. Consider switching heavy curtains out for sheer ones, or leaving bigger windows bare altogether in order to achieve this naturally vibrant look.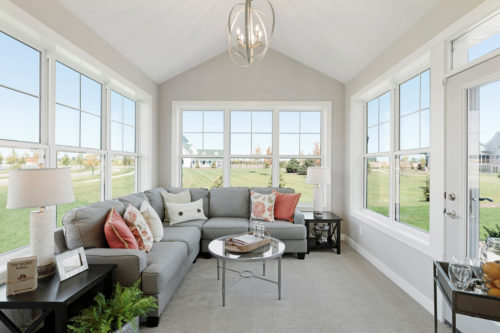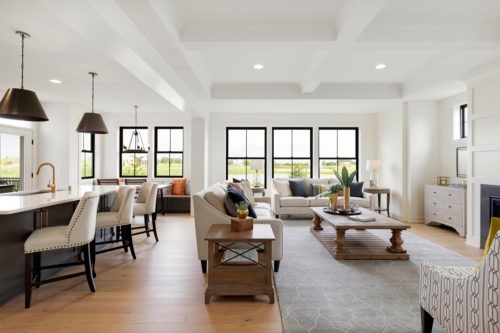 Why we support this trend: This trend is a great way to add a bright, gleaming feel to your home without overusing white tones. More natural light means we can add more pops of contrasting color without darkening a space too much. This trend also directly supports another emerging design trend: plants! People have been loving the earthy feel that plant life can add to your home, and the natural light allowed by open windows will help keep these plants alive and thriving. 
Black Accents:
Our Senior Interior Designer Katie observed that "oil rubbed bronze is slowly fading out and black is overtaking," as far as kitchen & bath finishes, door handles, and light fixtures go. This color pairs so seamlessly with white tones and has the ability to add flare to a room without straying too far from classic simplicity. Check out one of our past blog posts to see how these black accents can even look great on window frames!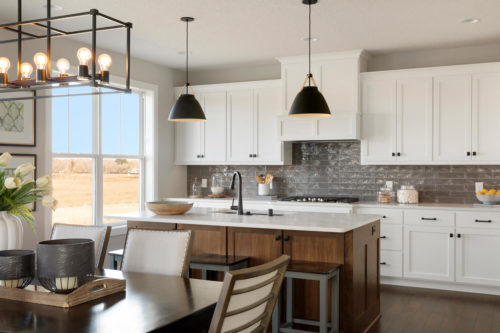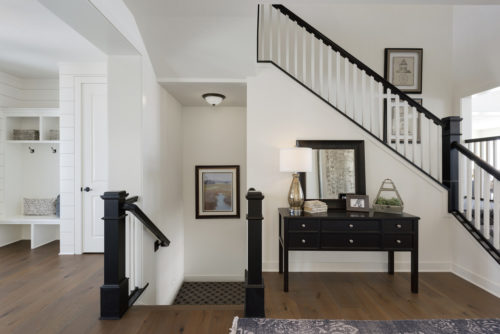 Why we support this trend: These black accents can be incorporated into almost any design style without disrupting it. It attracts the eye in a sharp and satisfying way, and can also add definition and edge to lighter toned color schemes. Adding black accents is a great way to update a monochromatic white kitchen, not to mention that we particularly love the fresh and modern look that is created from these black and white combos. 
For more trend updates and design inspiration, visit our Pinterest, Instagram & Facebook profiles. If you're interested in building with Robert Thomas Homes, please reach out to our New Home Consultants for additional information.
To see these trends in person, stop by our model homes, open Thursday – Monday 12-5 pm. And don't forget to mark your calendars for the Fall Parade of Homes, September 11th – October 3rd, with extended model home hours, Thursday – Sunday 12-6 pm & Monday 12-5 pm. See you there!