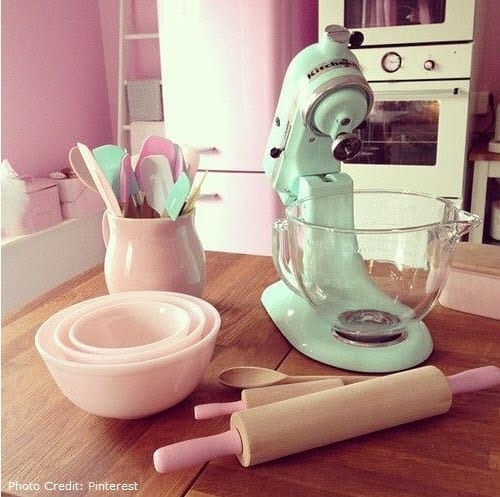 Pastel Interior Design Ideas
It seems every year when springtime rolls around many trends in fashion involve soft, pretty pastel colors. This year, we're all about shaking things up; so put pastels in your home! Incorporate this popular warm weather trend and take it into fall and winter. Brightening up your décor is always a great idea to boost your mood and bring in needed change. Pastels are no longer just for the nurseries. Read through for a few ways to use these hues in you home.
Kitchen appliances – Pastels have become more popular in kitchen appliances and dishware to add great pops of color. Use the colors in your towels, spatulas, or counter stools.  Has anybody else been lusting over the mint green Kitchen Aid mixer? Now's the time to get it!
Furniture – Typically many shoppers steer towards neutral colors for their sofas and chairs. Next time you're looking to spice things up, go for a pastel accent chair or sofa slipcover for an unexpected place for color. Reupholstering stools and chairs is a way to freshen up your space and make something old new again!
Window Treatments – Drapes and window treatments are an often-overlooked aspect of interior décor. Don't underestimate the power of pastels to bring a bold look or focal point to highlight your clean windows or amazing view.
Pair with White – White is very clean and bright, especially for home décor.So, pastels and whites are a natural combination for a fresh, pretty space!
Try the Unexpected – Pastels don't just look great with white. Experiment putting pastels with other bold colors; hot pink and pastel pink or navy and light blue for example.  Remember, when making a statement, be sure to have a balance as to not overwhelm the room.
Pastels aren't just for nurseries anymore. Remember that there are pastel versions of practically any color. Not just the typically, blues, yellows, and pinks that probably come to mind. Try pastel grays, browns, or oranges to step outside of the box! If you're not into going too far with the trend, you can always add accent pillows, a funky lamp, or piece of pastel art.