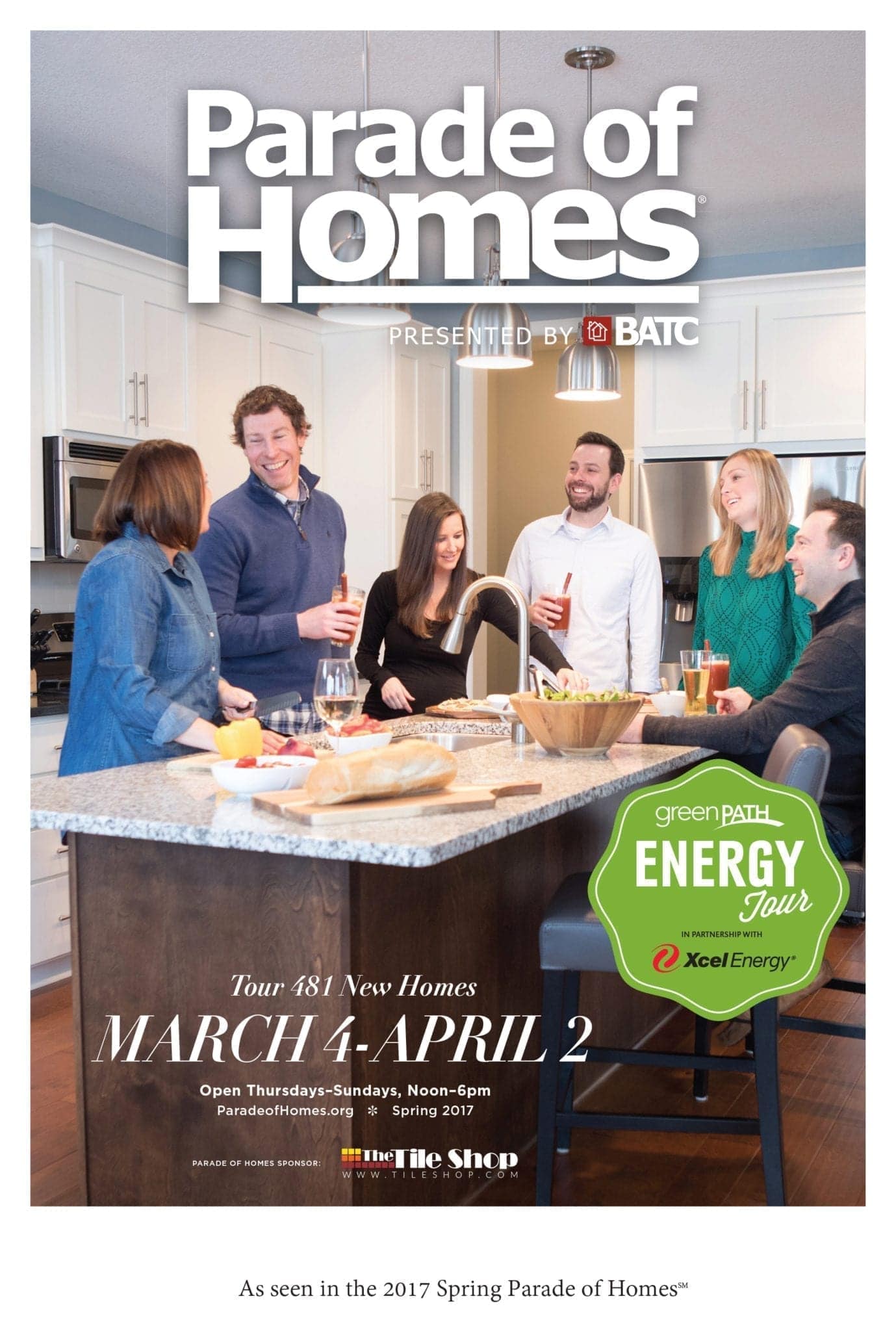 Parade of Homes℠ Featured Family Story – Spring 2017
Have you seen the cover of the Parade of Homes℠ magazine? This spring 2017 issues features three brothers and their families who each built with Robert Thomas Homes (RTH)!
We invite you to enjoy live music, complimentary hor d'oeuvres, beverages and mingling at our Guidebook Launch Party on Wednesday, March 1st from 5:30pm to 8:30pm at the Spirit of Brandtjen Farm (Lakeville) community center ("The Barn").
"THREE BROTHERS, ONE BUILDER"
As seen in the 2017 Spring Parade of Homes® Guidebook by the Builders Association of the Twin Cities. Interview and article by Laura Marrinan. To read the full story click here. 
Brent, Corey and Casey have always lived closed together.  After growing up in Rochester, the three brothers lived in Brent's Richfield home while Corey attended grad school and Casey finished up college. Once Brent married his wife Tara his two brothers went on to purchase condos in nearby.
As each of the brothers' families started to grow they realized more space was a necessity and decided to buy new homes with Robert Thomas Homes. All three brothers and their families selected different floor plans which were personalized to reflect their individual tastes and lifestyles.
Brent & Tara
With a growing family and baby number two on the way, Brent and Tara decided to start the new home search.   After visiting one of Robert Thomas Homes' showcase models during the 2014 Parade of Homes®, Tara knew RTH offered exactly what they were looking for in both a house and community.
Brent and Tara purchased a Birchwood floor plan in amenity rich Spirit of Brandtjen Farm (Lakeville). To Tara, it wasn't too much of a surprise that Corey and Casey built with Robert Thomas Homes shortly after they moved-in.  Tara joked that "everyone travels in a pack with these guys."1  Going on to say, "one goes one place and everyone has to go with."2
Corey & Eileen
Corey, his wife, Aileen and their newborn daughter, Molly (17 months), wanted a community close to their work in the Twin Cities but still offered the tranquil peacefulness of a wooded lot.  After visiting the Argenta Hills (Inver Grove Heights) neighborhood they found that this was the perfect mix for them.
"We were hesitant to build with the same builder as Brent and Tara at first because we didn't want our houses to look exactly alike," Corey said, "but with the number of floor plans and different finishes available at the design studio, we were able to purchase a unique home with our own sense of style."3  They ended up selecting a St. Croix floor plan.
Now with a second child on the way, Corey and Aileen, are more pleased than ever that floor plan can accommodate their growing family with such things as walk-in closets and a Jack & Jill bathroom.  Corey also adds, "they [Robert Thomas Homes] had the most value in their standard options."4  Like, granite counter tops and LP Smartside® siding.
Casey & Hanna
Looking to start a family, Casey and his fiancé, Hana, began their home search. They found themselves constantly wanting to make changes to the existing homes they toured.  That's when they decided to consider building new, which would give them what they desired from the start.
As Casey and Hana began to seek out various new construction builders they found themselves impressed with the quality of Robert Thomas Homes.
"You could just tell the quality workmanship in their homes," said Hana.5  Watching Brent and Corey's experiences during the build process and seeing the final product reinforced this thought.
In October 2016, Casey and Hanna moved into a Jamison floor plan located in Spirit of Brandtjen Farm.
Living in south metro communities keeps the three brothers not only close to each other, but also their sister and parents who still reside in Rochester.  It is nice to have impromptu family gatherings, "Before you know it we'll have 17 people in our house eating pizza, and it's no big thing," said Tara.6
To read the full story pick-up a free guidebook at any local Holiday Gas Station or click here.
ARTICLE & QUOTE SOURCES:
Marrinan, Laura. BATC.org. Fri. 10 Feb. 2017 https://newsroom.batc.org/spring-parade-of-homes-opens-march-4-2017/