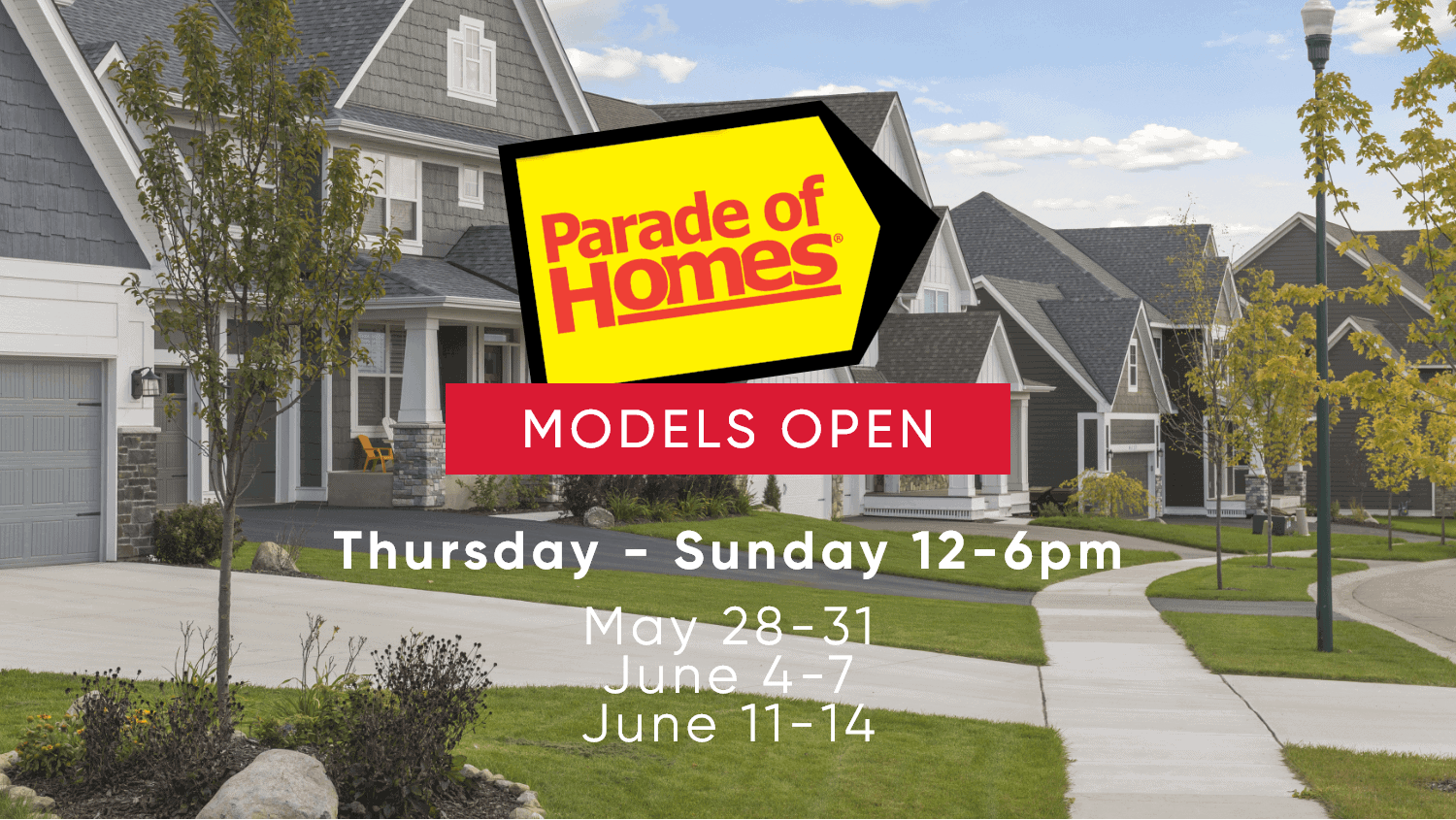 Spring Parade of Homes Models Now Open
WE'RE OPEN!
New Options for Touring and Meeting
We couldn't be more excited to welcome you back into our Showcase Model Homes for the Parade of Homes May 28-June 14. While we're still not doing hugs and high-fives, we can once again come face-to-six-feet-away-face. Over the past few weeks we've all realized the importance of home. So we're ready to help you take advantage of historically low-interest rates and find the home that best fits your life. Starting Thursday, May 28th here are some options for touring:
Models Open to Tour
Starting May 28th between 12 pm and 6 pm, Thursday – Sunday, you can visit one of our Showcase Model Homes, speak with a New Home Consultant regarding pricing, availability, and tour models at your leisure. All models will be open and in compliance with our social distancing work practices and enhanced cleaning protocols.
New Safety Policies for Touring
The safety of our guests and staff remains a top priority, so we're working in new ways. Following Gov. Walz's Executive Order 20-56 we've implemented a series of safety policies and protocols to keep visitors safe while visiting our model homes.
All homes will have a maximum occupancy of 10 people.
Maintain 6′ social distancing practices everywhere (look for the floor markers if you need a reminder!)
We strongly recommend all visitors wear a mask.
Refrain from handshaking.
Cover any coughs or sneezes.
Disposable gloves will be provided upon request.
We ask all visitors to wash their hands frequently and/or use hand sanitizer provided within our model homes.
To reduce the surface contact, refrain from touching cabinet doors and lights. Some small rooms may be roped off.
Routine cleaning and disinfecting of work surfaces will be performed.
All high touch surfaces will be frequently sanitized.
Private One-on-One Tours
We will also be offering private, one-on-one appointments, and tours of models with a New Home Consultant who can answer your individual questions in a more personal setting. These can be scheduled between the hours of 12 pm and 6 pm Thursday through Monday.
Virtual Appointments
Prefer to continue your search from home? We've got you covered. All of our virtual tools are still available if you'd rather continue new home dreaming from afar. Virtual tours, video tours, and various chat methods from phone to video to online chatting are at your fingertips. Reach out to Jocelyn via Internet chat for an appointment, or help with navigating our virtual capabilities.
Models will be open May 28-June 14, Thursdays – Sundays from 12-6 pm, 24/7 via online, 3D tour, or by appointment. Follow along for updates at Parade of Homes℠
Robert Thomas Homes is committed to the safety of the community, and we urge everyone to follow CDC, federal and state recommendations regarding COVID-19.
Parade of Homes℠ is a service mark of Housing First Minnesota and is used with permission.