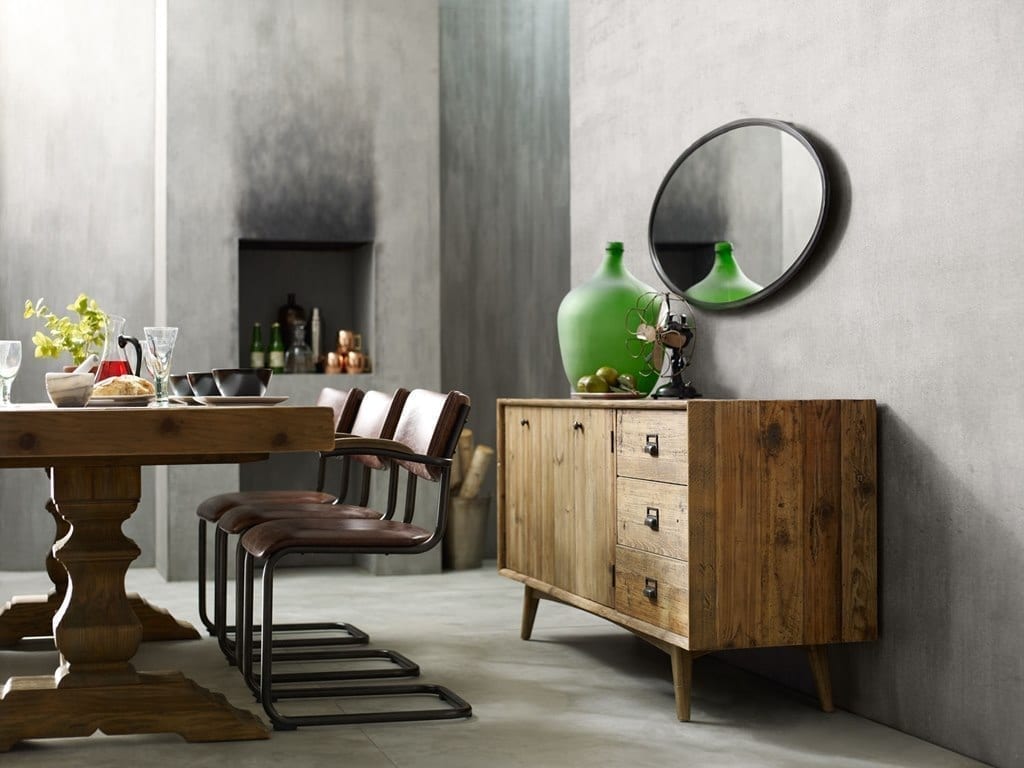 Concrete to Marble: How to Incorporate Raw Elements into Your Home
From mica to marble, if you are looking to update your using natural and raw elements you have landed in the right spot. Many natural materials offer the benefit of being low maintenance, elegant and sustainable. Most of raw materials used for home kitchens, entryways and living rooms are perfect for any design scheme.  Here are some ways to incorporate raw elements into your home for maximum design impact:
Concrete is making a comeback.
Concrete walls give a contemporary dining space a hint of edginess while also offering industrial flair. A mid century modern crezenda and vintage-look dining chairs further the contemporary chic look while paying tribute to classic styles.
PHOTO SOURCE: LuxeDecor
Creating a luxurious kitchen is merely a matter of marble.
For maximum visual impact, install a showpiece island with a marble or quartz top as the focal point of your kitchen. Keep your budget in check by sticking to simpler materials for your main kitchen countertops, and allow your luxurious island to serve as the main visual attraction in this space.
PHOTO SOURCE: LuxeDecor
The luxurious look doesn't need to stop in your kitchen!  Consider continuing the sleek look into your gathering room by using marble for a fireplace surround like seen below from one of Robert Thomas Homes' showcase models.
PHOTO SOURCE: Robert Thomas Homes  –  The Broadmoor
Add an element of decor. 
If a home remodel isn't in your plans, add natural flair to your space by incorporating elemental decor. A chic gallery wall that includes a house plant and animal skull offers a subtle nod to the raw material trend. Furnish your space with leather sofas, wood tables, and brass industrial lighting to complement edgy accents.
PHOTO SOURCE: LuxeDecor
Stacked stone is a design staple.
The stacked stone fireplace has become a design staple in many American homes (and showcased in many Robert Thomas' homes and pictured below), and brings a woodsy lodge look to any abode. For a bolder look, think outside the fireplace and cover an entire wall with the nature-made material. Stack stone is available in a variety of sizes, patterns, and colors, making it easy to find a style that appeals to your interior preferences.
PHOTO SOURCE: Robert Thomas Homes – The Brookview and The St. Croix
Go bare.
Leaving a wall or two in your home unfinished makes for a bold accent wall, and a more impactful look than a simple coat of paint. The pairing of bare concrete walls with unfinished wood framing lends itself to a rustic aesthetic with a touch of industrial influence. For your floors, opt for a subdued natural material to balance the space. Natural finish wood is an understated and classic material that brings softness to the look.

PHOTO SOURCE: LuxeDecor
Whatever element you choose, you really can't go wrong! Don't be afraid to mix and match raw elements within the same space and have fun!
Guest Post By Amy Spagnola for LuxeDecor