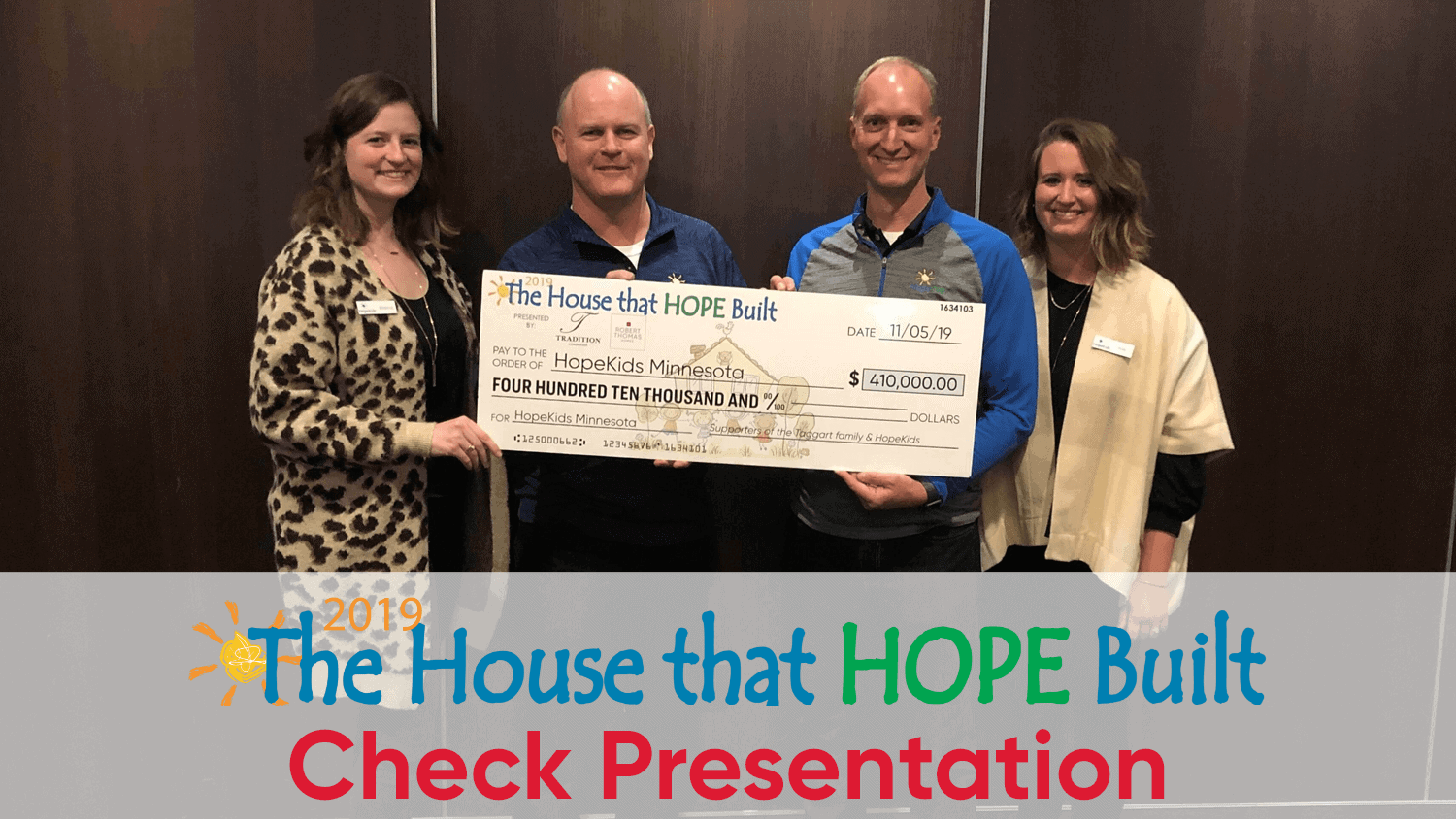 Check Presentation | 2019 House That Hope Built
You may have heard over the past few months, the excitement surrounding "The House That Hope Built". In case you haven't heard, Tradition Companies, Robert Thomas Homes and many of our trade and business partners embarked on the construction of the third "Hope House". Our goal for the "Hope House" is to donate the net proceeds from the sale of the home to HopeKids Minnesota, a local nonprofit organization that provides unique support for children with life-threatening illnesses and their families.
We were very excited that this year's "Hope House" was sold during the Fall Parade of Homes™! Joined by many of our trade and business partners who contributed materials, labor and cash donations to the project, Tradition Companies and Robert Thomas Homes gathered to celebrate the success of this year's Hope House at the Faith-Hope-Courage event. It was an evening filled with important and touching stories from various guest speakers as well as happy tears as we presented HopeKids Minnesota with this year's net proceeds of the Hope House sale that came to a $410,000 donation to the organization.
"I am touched by the support of Tradition Companies and Robert Thomas Homes," HopeKids' President, Josh Taylor said. "This gift helps more than 1,000 families battling cancer or other life-threatening conditions by keeping them focused on the future, looking forward to the next fun event around the corner." It was an exciting night, and we are so happy to be partnering with HopeKids again to continue to support their cause.
The net proceeds from this year's sale will again be used to purchase a 16-person suite at the Xcel Energy Center for another two years. The "HopeSuite" (as it's known) offers a safe and accepting environment for children with life-threatening illnesses and their families to meet, connect, and enjoy special events. To date, more than 1,400 families have benefitted by attending events in this suite!
We couldn't have accomplished this project without the generous support of our business partners, suppliers, and subcontractors, and to them, we are forever thankful.
"No parent should ever have to go through the emotions of finding out their child has a life-threatening illness. What the HopeKids organization is doing for their families is special and provides such a great support system for local families. Tradition Companies is proud to support such a great local organization." – Jake Enebak, CEO of Tradition Companies
To view photos & information from this year's House That Hope Built events check out the HopeKids page here.