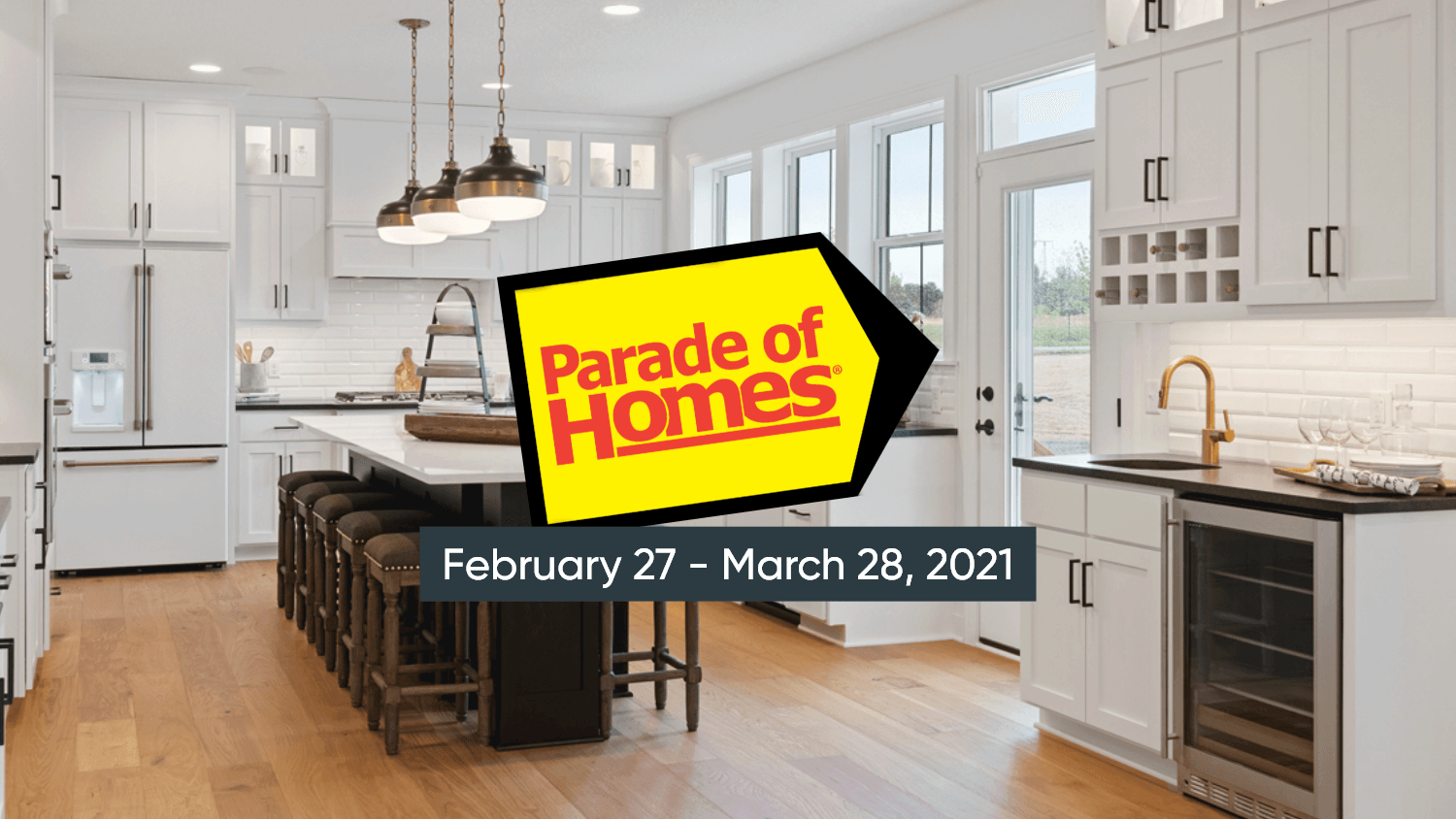 Spring 2021 Parade of Homes
WE'RE OPEN!
Showcasing 12 Spring 2021 Parade of Homes℠ Models
Starting February 27th – March 28th, we invite you to tour our Spring 2021 Parade of Homes​ Showcase Model Homes located across the Twin Cities. Model homes are open to tour Thursday – Sunday 12-6 pm & Monday 12-5 pm. You can speak with a New Home Consultant regarding pricing, availability, and tour models at your leisure. All models will be open and in compliance with our social distancing work practices and enhanced cleaning protocols.
Models Open to Tour
#31 | Fairmount A | 16382 Dryden Road, Lakeville
#107 | St. Croix III C | 4342 Millstone Drive, Chaska
#108 | Weston D | 4315 Millstone Drive, Chaska
#109 | Hamilton B | 4402 Timber Arch Drive, Chaska
#110 | 2144 B | 6403 Timber Arch Drive, Chaska
#111 | 2190 C | 6407 Timber Arch Drive, Chaska
#156 | Abbott A | 5990 Alvarado Lane N, Plymouth
#283 | Birchwood B Sport | 5730 130th Lane N, Hugo
#284 | Arden A | 5780 131st Street N, Hugo
#323 | Woodbridge D Sport | 9985 Arrowwood Trail, Woodbury
#324 | Aberdeen B | 9889 Arrowwood Trail, Woodbury
#338| Birchwood B Sport | 4240 Picket Way, Woodbury
Safety Policies for Touring
The safety of our guests and staff remains a top priority. We will be following safety policies and protocols to keep visitors safe while visiting our model homes. As you tour, please follow these guidelines:
All homes will have a maximum occupancy of 10 people. If the model is full, please wait until you are notified by the host that it's acceptable to enter.
Masks are required. Please come prepared with your own mask.
Maintain 6-ft. social distancing. Maintain this distance while waiting to enter the home, talking to those working in the home, and touring the home. This may require waiting to enter a hallway or a room until the people ahead of you have left the area. (look for the floor markers if you need a reminder!)
Do not touch surfaces. Please do not open cabinet doors and do not touch surfaces. Some small rooms may be roped off.
All high-touch surfaces will be frequently sanitized.
Routine cleaning and disinfecting of work surfaces will be performed.
We ask all visitors to wash their hands frequently and/or use hand sanitizer provided within our model homes.
If you are sick, please do not attend. Instead, use the virtual options we have outlined below.
Virtual Appointments
Prefer to continue your search from home? We've got you covered. All of our virtual tools are still available if you'd rather continue your new home dreaming from afar. Virtual tours, video tours, and various chat methods from phone to video to online chatting are at your fingertips. Reach out to Jocelyn via Internet chat for an appointment, or help with navigating our virtual capabilities.
Models will be open for the Spring 2021 Parade of Homes℠ February 27th – March 28th, 2021, Thursdays – Sundays from 12-6 pm, 24/7 via online, 3D tour, or by appointment. Follow along for updates at Parade of Homes℠
Robert Thomas Homes is committed to the safety of the community, and we urge everyone to follow CDC, federal and state recommendations regarding COVID-19.
Parade of Homes℠ is a service mark of Housing First Minnesota and is used with permission.