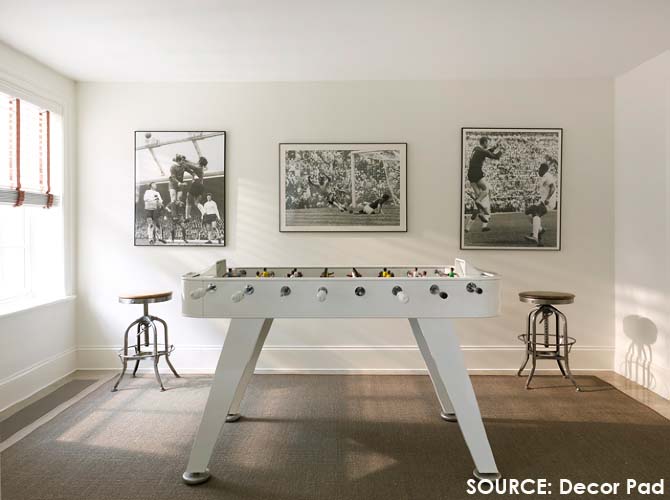 Making the Most of Your Bonus Room
For most of us, space is often limited. If you are lucky enough to have an extra room in your home or if you are building one of our floor plans that includes a spacious upper level bonus room option, consider it a blank canvas to design the room of your dreams. Whether you're single or have a family, the possibilities for your bonus room are endless. Partnering with Luxe Decor, we've compiled a list of six ideas for transforming your extra, empty room into a useful space you can inhabit and enjoy for years to come.
1. HOME OFFICE
If you work from home, or just want to keep your work and personal lives separate, a home office a great option for your bonus room. A home office lets you keep all your work materials in one space, instead of leaving papers in the living room or kitchen. A home office is a great choice for a bonus room that's on the smaller side. At the bare minimum, all you really need is a desk and a chair. If you're bonus room is roomy, spring for bookcases and a reading nook.
2. MEDIA ROOM
A media room or a home theatre is a great way to utilize your extra space. Perfect for family movie night or hosting an Oscars viewing party, a media room brings everyone together in one cozy space. No remodeling is necessary either. All you need is blackout shades, a big screen or a projector, and lots of comfortable seating.  If you want to jazz up the space even more, add a home bar, mini fridge, or a snack station.
3. KID'S PLAYROOM
If your child's toys are all over the house, it might be a good idea to turn your bonus room into a playroom. Yes, you'll be losing a room for yourself but you'll be re-gaining control over all the other rooms in the house. Shelving and bins for all of your child's toys makes for an easier cleanup and keeps the rest of your home (hopefully) toy free. When your kids outgrow the playroom, you can turn it into a different space of your choosing.
4. GAME ROOM
If your kids already have a playroom in your home, why not turn your bonus room into an adult playroom? A space decked out with darts, a billiard table, and maybe even a built-in bar, is perfect for entertaining and parties. The game room can double as a man cave for hosting poker nights, or might be the perfect spot to host your next board game night or ping-pong tournament.
5. CREATIVE WORK STUDIO
Whether you're an avid crafter or you enjoy painting in your spare time, an extra bonus room could be the chance you've been waiting for to dive into your passion. A creative work studio is perfect for diy-ing, scrapbooking, painting, sculpting, or any other artistic hobby. Keep your art supplies neat and tidy with bookshelves and file cabinets, and let your inspiration flow with a chalkboard painted wall for doodling or a corkboard wall for creating mood boards.
6. MUSIC ROOM
Whether you are an avid musician or just a big time music lover, a music room could be the right direction to take for your bonus room. This room can house your guitar collection, keyboard, or drum kit, and give you a place to host your next jam session. Showcase your vinyl collection with shelving or bookcases, and have a seating area to sit back and relax to your favorite tunes.  There are many options for soundproofing this space that range from cheap to expensive, but at the very least padded squares and upholstered furniture can help absorb the sound, and your neighbors will thank you.
Sometimes having an extra room is not possible, so consider homes with spacious upper level bonus rooms, like our in our St. Croix or Broadmoor plans, that give you an opportunity to really create an area that works for your lifestyle.  If you want to see more bonus room design ideas or layouts Houzz and Pinterest are great sources.