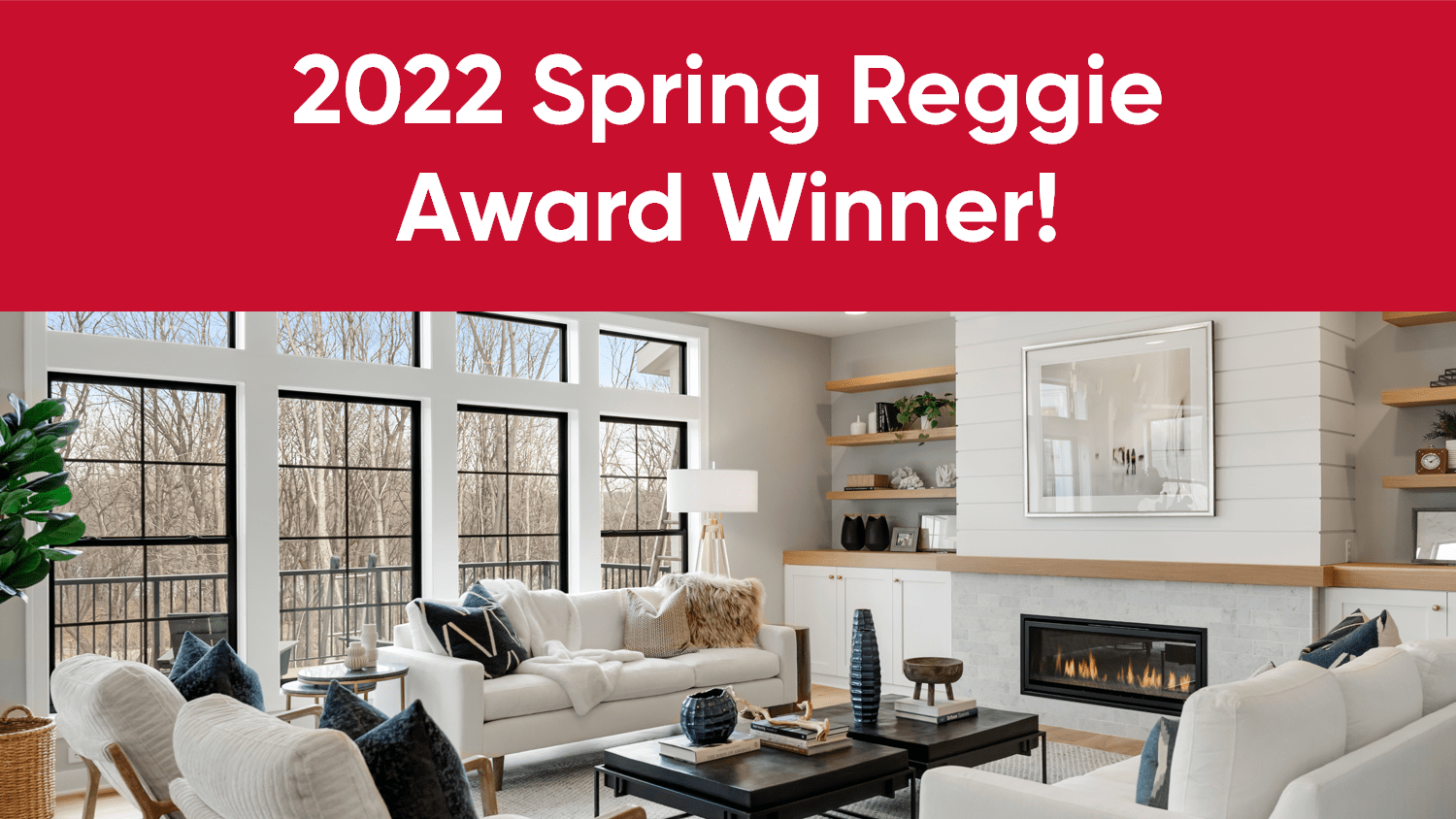 2022 Spring Reggie Award Winner
The 2022 Spring Reggie Award results are here! Robert Thomas Homes is proud to announce that we have won FIVE Reggie Awards for our models entered in the Housing First Minnesota 2022 Spring Parade of Homes! This year, we had 3 new floor plans to bring to the Spring Parade of Homes, each winning an award! With innovative designs, many unique features, and beautiful details in each, these homes scream Award-Winners! This marks our 28th Reggie Award in 8 years. We are honored to have been recognized by our building industry peers for design and construction excellence. We are also extremely thankful for everyone who took the time to visit our model homes in person this year!
2022 Spring Reggie Award Winner: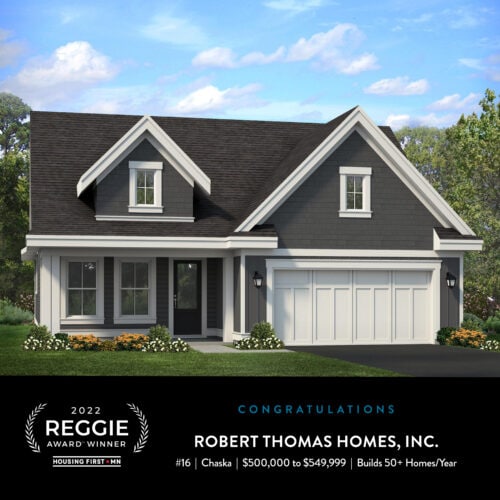 Category $500,000 to $549,000 | Builds 50+ homes per year
#16 – Irvine
The Harvest
6526 Harvest Way, Chaska MN
OPEN TO TOUR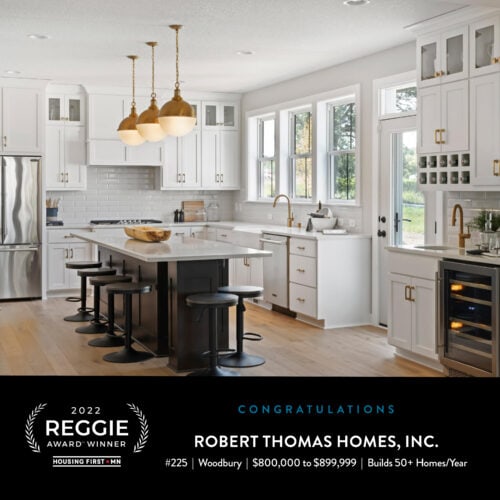 Category $800,000 to $899,000 | Builds 50+ homes per year
#225 – Abbott C
Arbor Ridge
4228 Picket Way, Woodbury MN
OPEN TO TOUR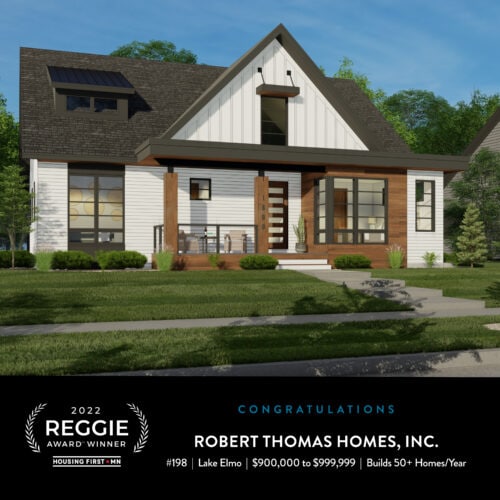 Category $900,000 to $999,999 | Builds 50+ homes per year
#198 – Primrose A
Wildflower at Lake Elmo
11425 Wildflower Drive, Lake Elmo MN
OPEN TO TOUR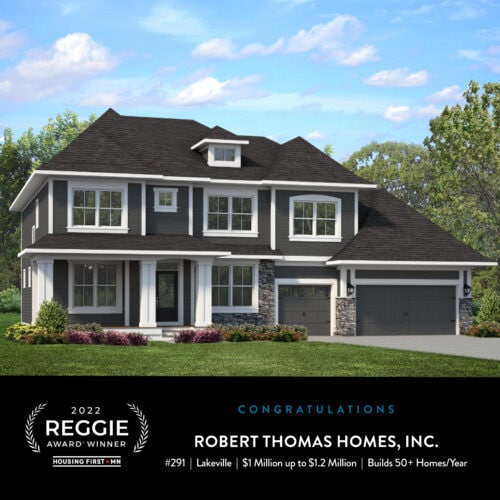 Category $1 Million up to $1.2 Million | Builds 50+ homes per year
#291 – Broadmoor Sport
Spirit of Brandtjen Farm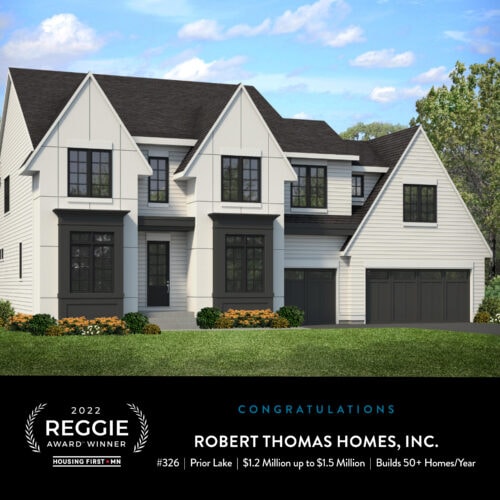 Category $1.2 Million up  to $1.5 Million | Builds 50+ homes per year
#326 – Charlotte Sport
Pike Lake Landing
4114 Marsh Drive, Prior Lake MN
OPEN TO TOUR
What is a Reggie Award and how is it judged?
Each home entered is judged by a panel of other builders and industry professionals that view the houses during the Parade of Homes. The criteria for the Reggie Awards are based on a series of categories including design, construction quality, and value of the home.
Congratulations to our Trillium Partners; Contract Interiors, Inc., Schwieters Companies, Inc., Andersen Windows, and David Charlez Designs. Building a new home requires the expertise of dozens of people, from the architect drawing plans to the many construction professionals and tradespeople involved in each home. Every member of our team builds on the work of the last, and we are so thankful for their contributions to creating these homes. We couldn't have done it without each and every one of them!
Take a look back at all of our 2022 Spring Parade of Homes entries where you can browse photo galleries, 3D Tours, and more here. If you would like to tour our Showcase Model Homes, visit us at our 8 beautiful Communities located across the Twin Cities. Models are open to tour Thursday – Monday 12 – 5pm. 
Parade of Homes℠ is a service mark of Housing First Minnesota and is used with permission.